A community united to improve early intervention and identification of developmental delays
Some families need extra support navigating different services to find child development resources. When it comes to helping families, we can work together to coordinate local services and programs.
Our Partners
First 5 LA and the Los Angeles County Department of Public Health are joining with partners, such as you, to make sure all children get connected to the services they need. Help Me Grow LA is working with partners in the community to:
Improve the existing Early Identification and Intervention (EII) system
Enhance referral pathways and improve school readiness support for families
Ensure all families get access to universal screenings
Educate families about the importance of early intervention
Pathways
The HMG LA Pathways is a three-year project that brings together agencies and programs that provide early identification and intervention services for developmental delays with other agencies and families. The goal is to improve existing referral pathways through technology, infrastructure and changes in practice to make sure all children get the services they need when they need it. Agencies that are part of Pathways have created a collaborative within their community. The collaboratives will plan, test, and refine strategies so that the referral pathways in a community are more coordinated, integrated and multidirectional with the goal of making it easier for families to find and access the support they need. The communities are the same as L.A. County's seven Regional Center boundaries to ensure countywide reach given the important role Regional Centers play in delivering the Early Start program to infants and toddlers. The five Pathways collaborative unifying agencies creating unique localized network of partners include:
Child Care Resource Center (North LA County)
Children's Bureau (Lanterman – Mid-Wilshire/Pasadena)
City of Long Beach Department of Health & Human Services (Harbor)
Eastern Los Angeles Family Resource Center (Eastern LA)
San Gabriel/Pomona Regional Center (San Gabriel/Pomona)
South Central Los Angeles Regional Center (South Central LA)
Westside Regional Center (Westside)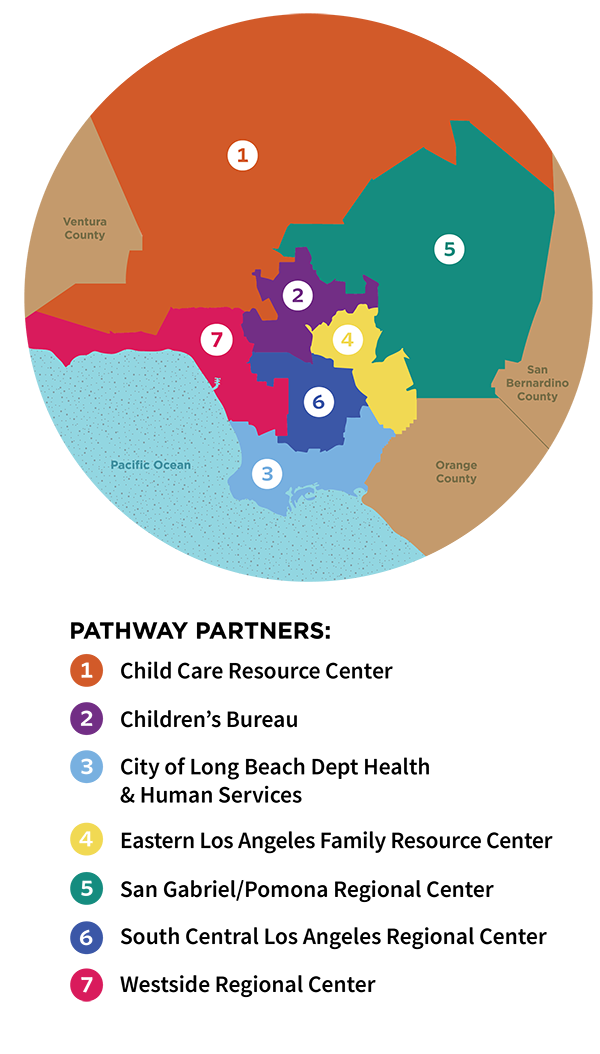 First Connections
The partnership helps community-based providers use innovative approaches to embed developmental screening in their practices and strengthen their referral processes. The goal is to better identify children with, or at risk for, developmental delays and connect them and their families to culturally and linguistically appropriate early intervention services and supports as early as possible. Given the success of the program, First Connections was extended to continue exploring promising practices and strong partnerships to inform other key systems delivering early identification and intervention, including HMG LA. Since the program's launch, First Connections grantees have served more than 60,000 children and expanded services to more than 120 locations across six community-based organizations.
Links to key partners:
L.A. Care Health Plan
The HMG LA partnership with L.A. Care Health Plan contributes to HMG LA's health provider outreach efforts. This partnership supports the integration of developmental monitoring and screening into all well-child visits. It also increases awareness of, and education on, the importance of developmental screenings and monitoring to health providers, clinics, community organizations and families. The partnership will use L.A. Care's network of providers, infrastructure and expertise, as well as its Family Resource Centers/Community Resources Centers to reach providers, families and children. With L.A. Care and their plan partners providing health care coverage to over half of all children age 0-5 countywide, we see tremendous opportunity for providing resources and support to families.
ENRICH increases access to developmental screenings and provides hands-on support to families navigating behavioral and mental health care and educational services for their children with mild-to-moderate developmental delays. ENRICH provides Exide-area residents with free developmental screenings and free access to a family partner who can assist families with regional center applications, IEPs, and more!