---
Background
The number of reported monkeypox virus cases has continued to increase. The strain circulating in the U.S. and globally has been a clade that causes milder illness. See the LA County Monkeypox Data webpage for the most current updates.
Close, sustained skin-to-skin contact, including sexual contact, with a person with monkeypox appears to be the most significant risk factor associated with transmission among recent cases. In this outbreak, many of the reported cases have been among gay, bisexual, or other men who have sex with men (MSM). However, it is important to remember that any person, irrespective of gender identity or sexual orientation, can acquire and spread monkeypox.
Evaluation of a Patient with Suspected Monkeypox
Considerations
The classic presentation of monkeypox infection includes a flu-like illness lasting a few days, followed by the appearance of a characteristic rash. Presenting symptoms can include fever, chills, a distinctive rash, and/or new lymphadenopathy; the appearance of the rash typically evolves rapidly and sequentially from macules (lesions with a flat base) to papules (slightly raised firm lesions), vesicles (lesions filled with clear fluid), pustules (lesions filled with yellowish fluid), and crusts which dry up and fall off.
Thus far, in the U.S. outbreak (Epidemiologic and Clinical Characteristics of Monkeypox Cases-US May 17-July 22, 2022), some notable features of infected people have included:
All have developed a rash
The rash has often begun in mucosal, genital, or perianal areas
The lesions have at times been scattered or localized to a body site rather than diffuse
Lesions have sometimes been in different stages of progression
Not all have had classic prodromal symptoms
Presenting symptoms have included anorectal pain, tenesmus, and rectal bleeding associated with perianal lesions and proctitis.
See CDC for additional considerations in special populations:
History
Monkeypox infections in the current outbreak may not be classical in appearance or progression. Therefore, the patient history is particularly important for identifying possible monkeypox cases.
Suggestive history includes:
Close contact with a person or persons with a similar appearing rash or with a person who has received a diagnosis of confirmed or probable monkeypox; and/or
Close or intimate in-person contact with persons in a social network experiencing monkeypox infections; this includes MSM who meet partners through an online website, digital application ("app"), or social event (e.g., a bar, bathhouse, or party)
Physical Exam
The rash associated with monkeypox classically involves vesicles or pustules that are deep-seated, firm or hard, and well-circumscribed; the lesions may umbilicate or become confluent and progress over time to scabs. The rash usually starts on the face or in the oral cavity and progresses through several synchronized stages on each affected area and concentrates on the face and extremities, including lesions on the palms and soles.
However, presentations in this outbreak have not always been classic. Patients have experienced rashes without prodromal symptoms and rashes that are at different stages within an affected area. The rash is often starting in the genital/perianal area and progresses to face, arms, palms and soles. Or the rash only involves the genital/perianal area.
The rash can be extremely painful.
Clinicians should perform a thorough skin and mucosal (e.g., anal, vaginal, oral) examination for the characteristic vesicular or pustular rash of monkeypox; this allows for detection of lesions that the patient had not previously been aware of.
See CDC Clinical Recognition
Differential Diagnosis
Patients presenting with perianal or genital ulcers, diffuse rash, or proctitis should be evaluated for STIs. However, the diagnosis of an STI does not exclude monkeypox as a concurrent infection may be present. The clinical presentation of monkeypox may be similar to some STIs, such as syphilis, herpes, lymphogranuloma venereum (LGV), or other etiologies of proctitis.
Photos of Monkeypox Skin Lesions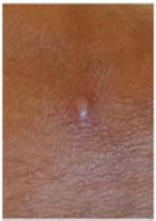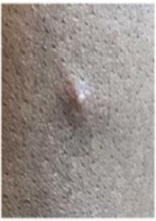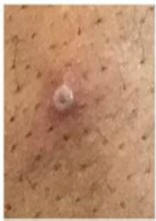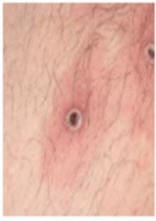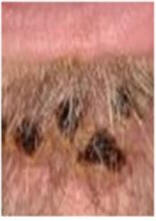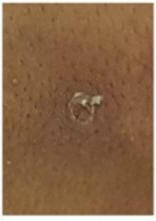 Monkeypox Virus Testing
Healthcare providers should test any patients with suspected monkeypox.
This includes any patient with a new characteristic rash or patients with risk factors for monkeypox and a new rash. The rash associated with monkeypox can be confused with other rashes encountered in clinical practice including herpes, syphilis, and varicella and co-infections have been reported. See CDC Monkeypox Suspect Case Definition. Providers should wear appropriate personal protective equipment (PPE) to collect specimens (see PPE).
Reminder: suspected monkeypox cases do not need to be reported. Only orthopoxvirus positive and/or presumptive positive test results must be reported (see Reporting).
Commercial testing
Commercial testing is available through several commercial labs including Quest Diagnostics, Labcorp, Aegis Sciences and Sonic Healthcare USA. Labcorp, Aegis Sciences and Sonic Healthcare USA are using the CDC's orthopoxvirus test (which detects all non-smallpox related orthopoxviruses, including monkeypox). The Quest assay is real time PCR test developed by Quest that detects DNA of non-variola orthopoxviruses and Monkeypox virus (West African clade)—see Quest FAQs.
Providers should submit specimens through commercial labs if possible (with the exception of specimens from persons experiencing homelessness*). Follow specimen collection instructions provided by the commercial laboratory. In addition, in order to ensure timely and efficient testing and prompt resulting from commercial laboratories, providers should use electronic test orders and should ensure that the required patient demographics are accurately and completely entered on the order.
*If providers suspect monkeypox in a person experiencing homelessness (PEH), they are asked to submit specimens to the LAC DPH Public Health Laboratory (PHL) in order to expedite test results and decisions on the individual's placement needs.
Providers using commercial labs must report all LA County residents with orthopoxvirus positive and/or presumptive positive test results (see Reporting).
Public Health Laboratory
Providers with a suspect monkeypox case in a PEH and providers that do not have access to commercial orthopoxvirus testing, may submit samples from suspect cases to the LAC DPH Public Health Lab (PHL) after obtaining consultation and approval from LAC DPH. See LAC DPH PHL Preparation and Collection of Specimens below.
Clinical Consultation or Public Health Laboratory Monkeypox Testing Approval
Providers who need clinical consultation or are requesting approval for monkeypox testing at our Public Health Laboratory can call:
Los Angeles County DPH Acute Communicable Disease Control
Weekdays 8:30am-5pm: call 213-240-7941.
Weekends and holidays 8:00am-5pm: call 213-974-1234 and ask for the physician on call.
Evenings for urgent situations only: call 213-974-1234 and ask for the physician on call.
Long Beach Health and Human Services:
Weekdays 8am-5pm: call 562-570-4302.
After-hours: call the duty officer at 562-500-5537.
Pasadena Public Health Department:
Weekdays 8am-5pm: call 626-744-6089.
After-hours: call 626-744-6043.
Reporting
Healthcare provider must report all LA County residents with orthopoxvirus positive and/or presumptive positive test results from commercial laboratories.
If providers experience technical difficulties with using the on-line report form, reports may be completed using the standard CMR form and submitted via fax to (888) 397-3778 or (213) 482-5508. Provider reporting is not necessary for positive tests conducted by the LAC DPH PHL.
Infection Control Considerations for Suspected Monkeypox Cases (Transmission)
Monkeypox virus can spread when a person comes into contact with the virus from an infected animal, infected person, or materials contaminated with the virus. Monkeypox spreads between people primarily through direct contact with infectious sores, scabs, or body fluids. It also can be spread by respiratory secretions during prolonged, face-to-face contact. Monkeypox can spread during intimate contact between people, including during sex, as well as activities like kissing, cuddling, or touching parts of the body with monkeypox sores. At this time, it is not known if monkeypox can spread through semen or vaginal fluids.
Infection Control in Healthcare Setting
Reports of human-to-human transmission describe close contact with an infectious person. Transmission in healthcare settings has been rarely described and occurred when insufficient PPE was used. CDC recommendations for infection control measures in health care settings are subject to change if information about transmission changes.
Patient Placement
A patient with suspected or confirmed monkeypox infection should be placed in a single-person room; special air handling is not required. The door should be kept closed (if safe to do so). The patient should have a dedicated bathroom. Activities that could resuspend dried material from lesions, e.g., use of portable fans, dry dusting, sweeping, or vacuuming should be avoided. Transport and movement of the patient outside of the room should be limited to medically essential purposes. If the patient is transported outside of their room, they should use well-fitting source control (e.g., medical mask) and have any exposed skin lesions covered with a sheet or gown.
Personal Protective Equipment (PPE)
Standard precautions are the basic level of infection control that should be used in the care of all patients including for patients with suspected monkeypox.
PPE for Standard Precautions includes:
Gloves
Gown
Surgical mask
Other face and eye protection (e.g., goggles, face shields) for potential splash or spray of blood, respiratory secretions, or other body fluids.

PPE used by healthcare for confirmed cases requiring ongoing clinical management:
Gown
Gloves
Eye protections (i.e., goggles or a face shield that covers the front sides of the face)
NIOSH-approved particulate respiratory equipped with N95 filters or higher.

Review current CDC guidelines on exposure and risk assessment of healthcare workers here.
Environmental Infection Control
Any EPA-registered hospital-grade disinfectant can be used for cleaning and disinfecting environmental surfaces; CDC recommends using an EPA-registered hospital-grade disinfectant with an emerging viral pathogen claim (EPA's List Q), although most of these are hospital grade disinfectants.
Take care when handling soiled laundry (e.g., bedding, towels, personal clothing) to avoid contact with lesion material. Soiled laundry should be gently and promptly contained in an appropriate laundry bag and never be shaken or handled in manner that may disperse infectious particles. Activities such as dry dusting, sweeping, or vacuuming should be avoided. Wet cleaning methods are preferred.
Waste (i.e., handling, storage, treatment, and disposal of soiled PPE, patient dressings, etc.) should be managed as medical waste.
Healthcare Worker Exposures and Risk Assessment
Transmission of monkeypox requires prolonged close contact with a symptomatic individual. Brief interactions and those conducted using appropriate PPE in accordance with Standard Precautions are not high risk and generally do not warrant PEP.
CDC has posted guidance on monkeypox exposure risk assessment and monitoring of exposed individuals, including HCP.
Isolation and Infection Control at Home
Patients with suspected monkeypox infection should be instructed to isolate immediately. They should avoid close contact with other people pending the results of testing.
Patients with confirmed monkeypox should isolate at home and be given isolation instructions. In general, isolation precautions should be continued until all lesions have resolved, the scabs have fallen off, and a fresh layer of intact skin has formed.
For more information see CDC Monkeypox Isolation and Infection Control at Home.
Monkeypox Treatment
The current circulating strain of monkeypox has been to date limited to the West African clade, which tends to cause milder disease. Many patients have mild disease and recover without medical intervention. Patients with lesions or pain that interferes with the activities of daily living and patients at high risk for severe disease should be considered for treatment with tecovirimat (TPOXX). There is no shortage of tecovirimat.
Tecovirimat (also known as TPOXX or ST-246) is an FDA-approved antiviral medication for the treatment of human smallpox disease. The CDC holds an expanded access Investigational New Drug (EA-IND) protocol that allows for the use of stockpiled tecovirimat to treat monkeypox disease during an outbreak.
Data are not available on the effectiveness of tecovirimat in treating monkeypox infections in people, but studies using a variety of animal species have shown that tecovirimat is effective in treating disease caused by orthopoxviruses. Clinical trials in people showed the drug was safe and had only minor side effects.
Informed consent is required for all patients treated with tecovirimat and providers must follow the CDC EA-IND protocol. Tecovirimat is available in oral and intravenous formulations.
Tecovirimat has now been positioned at Disaster Resource Center umbrella hospitals and with most major medical networks. If you do not have access through these systems, healthcare providers may call the DPH healthcare provider line. LAC DPH has developed guidance to support clinicians in obtaining and using tecovirimat. See Guidance for the Treatment of Monkeypox-Tecovirimat. Healthcare providers may also call the DPH healthcare provider line for logistical and clinical consultation regarding tecovirimat.
For information on other therapies, see CDC Monkeypox Treatment Information.
Monkeypox Vaccination and Post Exposure Prophylaxis
LAC DPH PHL Preparation and Collection of Specimens
Consultation and approval is required before submitting specimens for testing at the LAC DPH PHL. Please be prepared to share photos of the rash and to provide pertinent medical information (e.g., rash onset date, rash type, symptoms, smallpox vaccination date if relevant, exposure history). Specimens received at the Public Health Laboratory without approval will not be tested.

PHL testing may be requested seven days a week during daytime hours:
Weekdays 8:30am-5pm: call 213-240-7941
Weekends and holidays daytime 8:00am-5pm: call 213-974-1234 and ask for the physician on call.
During the evening (Monday-Sunday 5pm to 8am), providers should collect, store, and label the specimens as outlined in this section and call Public Health for approval in the morning.
Collection
Specimen collection involves vigorous, firm swabbing of lesions (vesicular, pustular, or crusted) with paired sets of DRY synthetic swabs. Swabbing may rupture lesion to release fluid or pus material.

The swab used may be made of flocked or spun synthetic material but should have a shaft that is sturdy enough to enable the lesion to be rubbed vigorously. Do not use an NP swab as the shaft is too flexible and the tip too small to collect an adequate sample. Do not place swabs in any type of transport media; use a screw cap tube or sterile cup for transport of swab.

Dry swabs are required for poxvirus PCR. Paired sets of swab samples are required for testing because monkeypox specific PCR confirmation and clade differentiation is performed as a send-out test to CDC.

Additionally, scabs or crusts may be removed for collection in a dry, sterile container. Serum collected in gold top serum separator vacutainer tube may be collected for serology in selected cases for poxvirus serology.
Storage

Swab and scab/crust specimens should be stored refrigerated and ideally frozen within 1 hour. Serum specimens should be spun and stored refrigerated.
Labelling

Label all specimens with a minimum of two patient identifiers and completely fill out the Public Health Laboratory test request form.

For swabs and scabs/crusts, write in "Orthopoxvirus PCR" in the "Other" box at the bottom of the form.

For serum, write in "Orthopox serology" in the "Other" box at the bottom of the form.

Each specimen needs a separate test requisition form. The Public Health Laboratory test request form can be found here.
Resources
For Providers
For Patients/General Public
---